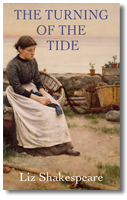 Devon, 1871
Young and vulnerable Selina Burman from Clovelly and her two young children are confined in the harsh environment of Bideford Workhouse. She can only observe them from a distance and despairs of a better future. Her prospects improve when she meets Dr Ackland, a popular G.P. committed to social change. He employs her as a servant in his own household, despite the doubts of his wife and the Bideford community, for whom any connection with the Workhouse is a source of fear and shame.
Selina's work gives satisfaction, but her search for love and security does not conform to the expectations of a middle class Victorian family and threatens to damage both her own future and Dr Ackland's career.
Set in Bideford and Clovelly, this novel draws on newspaper articles, letters and census returns, and powerfully brings to life the factual origins of the story.
UK price £9.99
352 pages
37 b/w illustrations
ISBN 9780951687925
Publication date 23/9/2010
Cover design by Ben Shakespeare
Of interest to family historians:
Surnames included in The Turning of the Tide
Ackland, Bale, Barry, Bazeley, Beer, Bowden, Boyle, Braddon, Buck, Burman, Burns-Gibson, Burrow, Champion, Ching, Chope, Christie, Coles, Cooler, Daniel, Eastman, Elwes, Evans, Fane, Gosset, Green, Grimes, Harding, Hatherley, Heard, Heaven, Hockridge, Holman, Holmes, Hookaway, How, Hoyle, Hutchinson, Jeffery, Joce, Jones, Kingsley, Lee, Lott, Mock, Murphy, Paddon, Parkhouse, Pedler, Pollard, Portsmouth, Powe, Pridham, Pynsent, Rooker, Squire, Stribling, Taylor, Thompson, Tuplin, Venning, Vinson, Whitefield.
Place names included in The Turning of the Tide
Abbotsham, Barnstaple, Bideford, Clovelly, Compton Gifford, East-the-Water, Eggesford, Hallsannery, Hobby Drive, Honiton, Instow, Landcross, Lundy, Lyme Regis, Mannamead, Northam, Parkham, St Dominick, Torrington, Walland Carey, Wellesbourne, Westleigh, Westward Ho!, Winsworthy, Wools