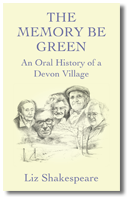 When she first moved to Littleham near Bideford, Liz Shakespeare decided to capture a vanishing way of life by recording the memories of elderly men and women who were born early in the twentieth century. Farmers, housewives and labourers tell stories of oil lamps, outdoor privies, communal harvests, cattle drovers and the arrival of the first tractor. They describe in their own words the days when families kept a pig to supplement a simple diet and water had to be carried from the village pump.
In this remarkable book, the voices of a generation who are no longer with us reveal changes in village life which have been reflected throughout Devon and beyond.
UK Price: £7.99
147 pages
16 b&w photographs
ISBN 9780951687901
First published 1990
Reprinted 2006
Cover illustration by Chris Collingwood
www.collingwoodhistoricart.com
Of interest to family historians:
Surnames included in The Memory Be Green: An Oral History of a Devon Village.
Ashton, Atkinson, Badcock, Baglow, Barrow, Beer, Bell, Berrold, Birch, Bourne, Brend, Brommel, Carter, Chubb, Clarke, Clements, Cock, Cole, Cook, Copp, Crocker, Dennis, Ellis, Friendship, Gillespie, Hamlyn, Hawker, Hearn, Hills, Huxtable, Jenkins, Johns, Johnson, Jollow, Jones, Joy, Kerrich, Kingdom, Kivell, Luxton, Lyle, Marshall, Martin, Martin, Mason, McDougall, Moyse, Nicholls, Palmer, Parsons, Partridge, Peete, Philbrick, Prouse, Raynor, Rowe, Ruddock, Sanders, Saunders, Sheenery, Short, Slader, Stevens, Stucley, Taylor, Toye, Upton, Vanstone, Westcott, Williams, Wise, Withecombe, Wood.
Place names included in The Memory Be Green: An Oral History of a Devon Village.
Apps, Littleham Church, Crealock Arms, Crossways, East Furlong, Edge Mill, Ford House, Forest Hill, Gregory's Langdon, Higher Boundstone, Hoop Inn, Hoops Cottage, Kingsley Cottage Alwington, Langdon Cottages, Littleham and Landcross School, Littleham Court, Methodist Chapel, Middle Langdon, Mount Pleasant, Nether Boundstone, The Old Forge, Old Moor, The Old Post Office, The Old Rectory, The Old School, Orleigh Mill, The Rectory, Red Cottages, Summerhall, Whitehall, Yeo Vale House.