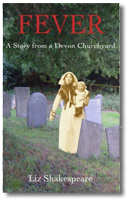 How many of us have wandered through a country churchyard and been moved by the memorials to young children? In this book the author sets out to discover the truth behind a number of graves dating from just one year in a nineteenth century Devon village. Her compelling investigation reveals the harsh reality of life in a small village before the days of effective medical care. By skilfully weaving social history, research and imaginative reconstruction she builds a sympathetic portrait of a community in the midst of adversity. We hear of strange remedies, the attempts of the clergy to help the stricken village, and the desperate poverty and over-crowding in farm labourers' cottages – the same cottages which are considered desirable today.
It is a story common to many rural communities; it is impossible to remain unmoved by the knowledge that this story is true.
UK Price: £8.99
270 pages
1 map
ISBN 9780951687918
Publication Date: 20/10/2005
Cover design by Ben Shakespeare
Reviews:
"Fever is a good read, well-researched and dramatised with sensitivity. Liz Shakespeare has done a valuable service to history by compiling these facts to present a snapshot of Westcountry life in the latter nineteenth century." Western Morning News. 10th December 2005.
"What makes her book so fascinating and so unique is its structure. Liz alternates the chapters of factual information from her research with chapters of fictional, imaginative reconstruction, bringing these poor families back to life, making them real people full of tumultuous emotions, rather than just allowing them to become simply another dusty old statistic." North Devon Journal. 15th December 2005
Of interest to family historians:
Surnames included in Fever. Ackland, Acland, Allen, Andrew, Antony, Archdall, Bailey, Bale, Barry, Bartlett, Blackmore, Bowdidge, Britton, Brooks, Buck, Burritt, Capern, Christie, Clark, Colwill, Cooler, Crealock, Crocker, Dennis, Dunn, Farringdon, Friendship, Glover, Grigg, Harding, Harris, Hearn, Heywood, Hill, Hockin, Hookaway, Hoyle, Kingsley, Lake, Lee, Marshall, Martin, Middleton, Mitchell, Molland, Morrish, Mugford, Newcombe, Nickols, Padley, Palmer, Pickard, Piper, Powe, Prouse, Pynsent, Quick, Reynolds, Short, Shute, Sing, Stormy, Tallamy, Thorne-Thorne, Vanstone, Vilot, Walters, Westcott, White, Williams, Yeo.
Place names included in Fever. (Most in Littleham, near Bideford.)
Abbotsham, Adjavin, Alwington, Appledore, Apps Brewery, Ashridge, Ashridge Barton, Barnstaple, Bideford, Bideford Union Workhouse, Boundstone – Higher and Lower, Bradworthy, Bridgeland Street, Buckland Brewer, Chapel Cottage, Coldharbour – Bideford, Coombe Cottage, Cooms Head, Crealock Arms, Crossways, Culver Cottage, East Furlong Cottages, East Furlong, East Heal Cottage, Edge Mill, Ford – Buckland Brewer, Furlong, Hart Street – Bideford, Heal, Heale, High Street – Bideford, Higher Shutta, Higher Webbs, Higher Winsford – Abbotsham, Hole, Holland, Hoop Inn, Hoopers Water, Jennett's, Knowle, Lakenham – Northam, Landcross, Langdon – Higher, Lower, Gregory's, Littleham Court, Littleham Mill, Lower Dunn, Market Square – Bideford, Meddon Street – Bideford, Mill Street – Bideford, Monkleigh, Moorehead Hill, Moorhead, Moreton House, Mount Pleasant, Nethercleve, New Inn, Northam, Parkham, Peters Marland, Pollands Cottage, Rectory, Rudhabridge, Shutta, South Yeo, Summerhill, Torrington, Upcott, Weare Giffard, West Furlong, Yeo Vale House, Yeo Vale Inn.